Skip to Content
Tummy Tuck (Abdominoplasty) in Surrey, B.C.
An abdominoplasty, commonly known as tummy tuck, is a procedure performed on both men and women that involves removing excess fat and loose or sagging skin from the lower and central abdomen. The goal of abdominoplasty is to create a firmer, flatter abdomen and a tighter silhouette. It is commonly performed after pregnancy, massive weight loss, or to treat areas that just won't respond to diet and exercise.
Our Fraser Valley service areas include Surrey, Langley, Abbotsford, Chilliwack, Coquitlam, Port Moody, Port Coquitlam, Pitt Meadows and Mission, BC.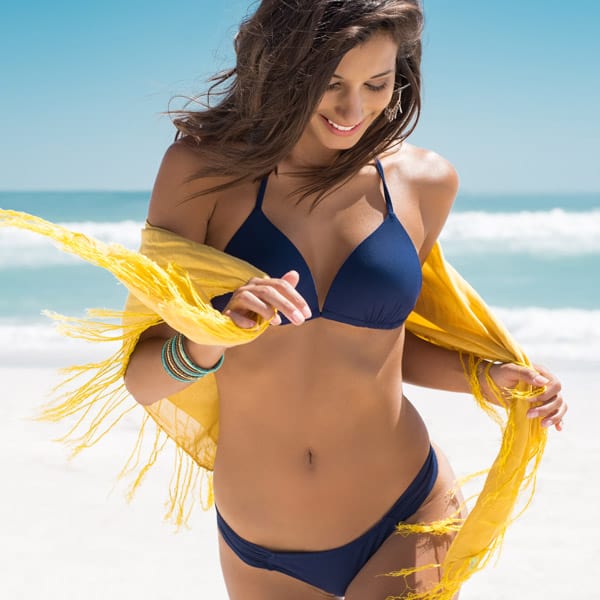 What It Can Do for You
Create a narrower waist and flatter abdomen
Correct rectus diastasis (separation of abdominal muscles following pregnancy or massive weight loss)
Remove hanging, stretched skin on abdomen
Remove stretch marks below the belly button
Improve skin rashes along lower abdomen
Increase self-confidence
Good Candidates
Reached a sustainable, safe bodyweight for at least six months
Have no horizontal upper abdominal scars
For women, you should have no plans for a future pregnancy
For women, if you have excess sagging skin following pregnancy (see Mommy Makeover)
Stubborn belly fat that is diet and exercise-resistant
Loose skin as a result of massive weight loss
If you have a personal history or family history of breast cancer, it's important to know that standard abdominoplasty eliminates the possibility of using the abdomen as a source for making a new breast. Furthermore, you can't be a smoker as the risks of serious complications, including wound healing problems and breathing problems around the time of the surgery, rise drastically in smokers. You must be emotionally mature, understand your motivations for having this procedure, and have realistic expectations about what the surgery can achieve.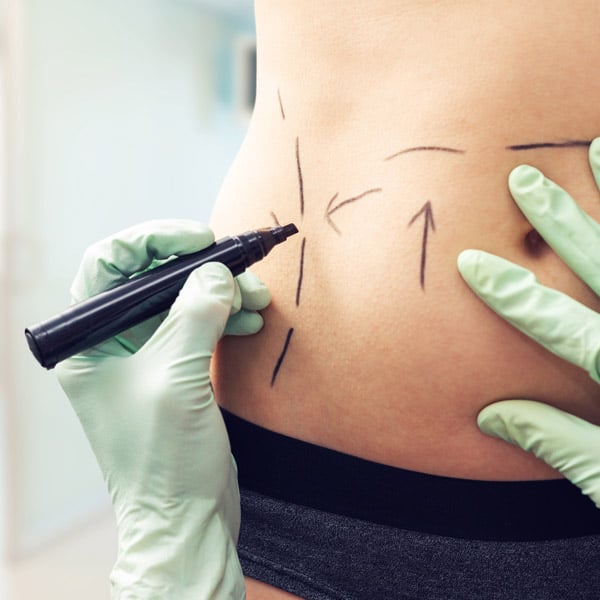 What to Expect on Your First Visit
During your initial consultation with the Plastic Surgery Group at City Centre, your plastic surgeon will do a physical examination and go over all your concerns and expectations. As every patient is unique — your age, weight, bone structure and the condition of your skin can all impact the final result — your plastic surgeon will discuss the procedure that best fits your goals and body. At this time, you will be given a basic understanding of the abdominoplasty procedure, including how it can help, how it's performed, what results you can expect, and any risks and limitations.
Abdominoplasty (Tummy Tuck) at a Glance
Procedure (point form)
Day surgery, general anesthetic
Hospital Stay
Surgery time is 2-3 hours
Recovery room 2 hours
Recovery (point form)
Return to work 2-3 weeks
Resume exercise 6 weeks
Procedure
A tummy tuck addresses both the inside and outside of the abdomen. Common options for tummy tuck include full abdominoplasty, mini-abdominoplasty, vertical abdominoplasty, and full body contouring. The surgery is usually performed as a day-care surgery, which means an overnight hospital stay is not required, with the occasional exception of a massive weight loss patient who may be required to stay overnight. The traditional tummy tuck surgery usually takes between 2-3 hours.

Types of Abdominoplasty
Full Abdominoplasty
Full or traditional abdominoplasty is the most common tummy tuck performed. Known as the gold standard of all of the procedures, it allows for recontouring of the entire abdomen from the pubic region up to the rib cage, including:
Removing excess skin and fat from the abdomen,
Removing stretch marks below the belly button
Reconstructing any separation of the muscles
Correcting abdominal bulges or hernias
The procedure results in a scar around the belly button and a scar that runs all along the lower abdomen below the bikini line, similar to but a bit longer than a C-section scar.
Liposuction
Liposuction is often done with the tummy tuck to help reduce fat at the front of the abdomen, the pubic region, and the love handles (flanks). This allows for improved contouring and helps to better define the waistline. Liposuction alone will not tighten or remove excess, stretched-out skin. Liposuction may also be done to other troublesome areas, such as the thighs, arms, and back at the time of the tummy tuck. Other procedures may sometimes be combined with a tummy tuck such as Mommy Makeover, breast lift, breast augmentation, or brachiaplasty (arm lift).
Mini Abdominoplasty
A mini-abdominoplasty is a procedure that removes limited skin and fat below the belly button only. It may result in a slightly shorter scar than the traditional tummy tuck and spares the scar around the belly button. However, it is not a good option for patients who have lost a lot of weight or who have a lot of excess fat, stretched-out skin, or rectus muscle separation in the upper abdomen.
Vertical Abdominoplasty
Vertical abdominoplasty is a procedure reserved for patients who have had a massive weight loss. Like traditional abdominoplasty, it leaves a horizontal scar hidden under the bikini line as well as a vertical scar extending from the pubic region up to just below the belly button. The addition of the vertical scar helps to narrow the waist.
Circumferential abdominoplasty
Circumferential abdominoplasty (belt lipectomy or lower body lift) is reserved for patients with massive weight loss who require recontouring and removal of hanging skin and fat from both the abdomen and lower back/buttock regions. It involves making incisions all the way around the lower abdomen and back ("circumferentially") to remove excess hanging skin and fat.
Recovery
Simple activities are possible within a few days but heavy lifting should be avoided for a few weeks, so parents of young children may want extra help during this time. Patients wear a special girdle-like garment for 4-6 weeks after surgery to help reduce swelling and improve the final result. When muscle repair is performed, you should not resume a full exercise programs until at least 6 weeks after surgery. Any scarring is hidden in the waistline under clothing and swim suits and it takes 6-12 months for the scars to fade. The results from abdominoplasty can take up to 6 months, and produces a dramatic but natural look that most patients find extremely satisfying.
Possible Complications
As in any surgery, risks include infection, scarring, delayed wound healing, bleeding, and anesthetic reaction. Risks specific to this procedure include asymmetry, distortion of navel, seroma, and numb skin. Complications in this procedure are relatively uncommon but will be discussed further at the time of consultation.
Contact Us
To learn more about how you may benefit from abdominoplasty or to schedule a consultation with one of our board-certified plastic surgeons, please contact our Surrey office today.
Tummy Tuck FAQs
Are tummy tucks safe?
Like any surgical procedure, there are risks to tummy tuck surgery. Those risks are significantly decreased when the procedure is performed by an experienced, qualified plastic surgeon in an accredited surgical center.
How can I prepare for a tummy tuck?
One of the most important parts of preparing for tummy tuck is to temporarily stop taking any medications which can increase bleeding, including aspirin, anti-inflammatory drugs and certain herbal supplements. (Our team will provide a complete list of medications to avoid.) If you smoke, you must stop a few weeks prior to surgery.
You may also be asked to get some bloodwork or laboratory testing done or to see your primary care doctor for a medical evaluation.
Will I have scarring?
Yes, you will have scarring along the incision line, which is located on the lower abdomen, right above the pubic hairline.
The severity of your scarring depends on how your body normally scars, how well your body heals from surgery and the techniques used during your surgery.
When can I see my results after tummy tuck?
Initially swelling and bruising may conceal your tummy tuck results. As the aftereffects subside, your flatter, firmer stomach will become more apparent. Your results will continue to improve in the months following surgery. It may take up to a year for your tummy tuck scar to fade and flatten.
Does a tummy tuck improve the look of stretch marks?
It depends on the location of the stretch marks. If the stretch marks are on the lower abdomen where skin is removed, they may be improved. If they are outside of this area, the surgery will not change their appearance.
What is a "mini tummy tuck"?
A mini tummy tuck may be appropriate depending on the patient. While a full tummy tuck involves removing skin and fat, tightening the abdominal muscles and relocating the belly button, anything less is considered a mini tummy tuck. The most common approach to mini tummy tuck is to tighten the abdominal muscles and remove a small amount of skin without relocating the belly button or tightening the skin above it.
When can I resume work after tummy tuck?
Most patients are able to return to desk jobs about two weeks after surgery. Individuals with physically demanding jobs may need to take additional time off work to recover.
When can I exercise after tummy tuck?
You can start to take short, slow walks as soon as you feel ready after surgery. However, you must refrain from more strenuous exercise for four to six weeks after surgery.
How long will my tummy tuck results last?
The results of tummy tuck are relatively permanent, as long as you do not become pregnant or fluctuate dramatically in weight. Pregnancy and weight gain will stretch out the tissues, skin and muscles again, which has an adverse effect on the appearance of the stomach.
How much does tummy tuck cost?
The cost of tummy tuck varies, depending on the exact surgical plan and whether tummy tuck is combined with other surgical procedures.
For more specific pricing information, please contact our office by phone or email and request a consultation with our team today.
Schedule Your Consultation Today