Skip to Content
Facelift in Surrey, B.C.
A facelift (rhytidectomy) is a procedure designed to correct the signs of facial and neck aging. With age, your skin loses some of the underlying supportive structure and elasticity. As a result, you start to notice wrinkles, drooping skin (particularly along the jawline), and deepening furrows around the mouth and chin.
Our Fraser Valley service areas include Surrey, Langley, Abbotsford, Chilliwack, Coquitlam, Port Moody, Port Coquitlam, Pitt Meadows and Mission, BC.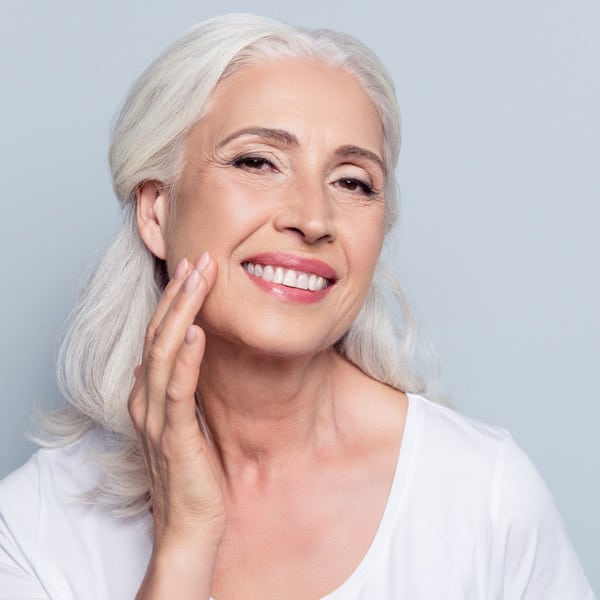 What It Can Do for You
Correct the appearance of jowls and deep nasolabial (smile) creases
Improve neck contour and jawline definition
Eliminate a double chin
Smooth bands in neck
Lift the fat that has sagged off of cheekbones
Good Candidates
If you have no major medical problems and wish for a more youthful, refreshed look, you may be a good candidate for a facelift. You must be emotionally mature, understand your motivations for having this procedure, and have realistic expectations about what the surgery can achieve. You cannot be a smoker.
What to Expect on Your First Visit
During your consultation, your surgeon will discuss your own personal requirements and requests and explain the treatment options that best address your concerns and particular situation.
Facelift in Vancouver at a Glance
Hospital Stay
Day surgery approx. 4-6 hours
Recovery (point form)
Light activity the next day
Back to work in 3-4 weeks
Procedure
A facelift involves having a general anesthetic. You will be given instructions on what time to arrive for your surgery and be reminded not to eat or drink anything the night before.
The procedure (which is tailored to each individual) takes approximately 4-6 hours and you will then spend approximately 3 hours in the recovery room. You should arrange to have someone pick you up from the hospital. You will be given a prescription for pain medication before you go home.
Surgical Techniques
Your facelift procedure will incorporate techniques that are tailored to your specific anatomical concerns and your goals of treatment.
Standard or Traditional Facelift
A standard or traditional facelift is a comprehensive solution to signs of aging in the mid-face and neck, including deep creases around the mouth, jowling and sagging skin under the chin. Our plastic surgeons usually create the incisions for standard facelift in the hairline at the temples, continuing down to and around the ears; sometimes they need to add another incision underneath the chin.After creating the incisions, the surgeons separate the skin from the underlying tissue and muscles. Next, they lift and tighten the deep layers of tissue between the muscle and fat, which helps to contour the cheek area, define the jawline and firm the neck. Then, they carefully re-drape the skin more tightly over the face and neck so it looks smoother and firmer. Finally, they trim excess skin and finish by closing the incisions with sutures.
Mini Facelift
Mini facelift is performed through shorter incisions with less invasive surgical techniques for less dramatic results than traditional facelift. Mini facelift may be a suitable solution if you have mild skin laxity and other signs of aging that do not necessitate standard facelift techniques.
Mid-Facelift
Mid-facelift focuses on rejuvenating the mid-face or cheek area. Through small incisions created in the lower eyelid, our plastic surgeons reposition fat that has sagged off the cheekbones and reduce the appearance of nasolabial folds (i.e., creases that appear on either side of the mouth). The surgeons can restore diminished cheek volume with dermal fillers or fat injections.
Combining Facelift with Other Procedures
Facelift can be performed in conjunction with other anti-aging procedures to rejuvenate the entire face and better meet your needs. For example, our plastic surgeons can combine facelift with eyelid surgery to target droopy, saggy or puffy upper and/or lower eyelids, or with brow lift to reposition a heavy or sagging brow and soften forehead wrinkles. Another option is to combine facelift with fat injections to add structure and shape to areas like the cheeks and temples that often lose volume with age.
Preparing for Surgery
Before your surgery, you will have a preoperative visit with a nurse to review the details of what to expect during your surgery and recovery. You may need to get some baseline blood tests and possibly meet with an anesthesiologist prior to surgery. You will be asked to stop taking all over-the-counter pain or fever medicines (except Tylenol) and blood thinners for two weeks prior to your procedure. Many herbal medicines can also cause bleeding and so need to be stopped before surgery. Examples include ginkgo biloba, St. John's Wort, and high doses of fish oil, flax seed oil, or vitamin E.
Recovery
Expect to have some discomfort for a couple of weeks, especially for the first 48 hours following surgery. This can be controlled with the pain pills prescribed by your surgeon. You may be able to resume light work or school within two weeks, although most people take 3-4 weeks off, with a facelift procedure. Returning to work should be discussed with your surgeon before your surgery. You will be able to shower and wash your hair within 24-48 hours.
Extensive swelling, bruising and skin discoloration are very common and usually will subside within 3 weeks. A special dressing is worn after surgery to reduce swelling and bruising. Bruising may be seen even in your chest area. Many patients report a sense of tightness or numbness of the face and neck after facelift surgery, but this is temporary.
It will take 6-12 months for you to see the final benefit of your facial surgery.
Possible Complications
As with any surgery, there are risks including infection, scarring, delayed wound healing, bruising, or bleeding. Complications specific to facial surgery are asymmetry, numb skin, and contour irregularities. However, all risks in this procedure are rare. They will all be discussed further during your consultation.
Contact Us
If you believe that you may benefit from facelift surgery and would like to schedule a consultation with one of our plastic surgeons, please contact our Surrey office today.
Schedule Your Consultation Today