Skip to Content
Nipple & Areola Correction
Nipple & Areola Reduction in Surrey, BC
Cosmetic surgery to the nipple areolar complex (NAC) includes both nipple and areola reduction. In general, any surgery done on a native NAC can affect a woman's ability to breastfeed, will leave scars (although often subtle), and can alter the sensitivity and feeling in the NAC.
Nipples and areolas (the pigmented skin surrounding the nipples) come in many different sizes, shapes and colors. If you are unhappy with the appearance of your nipples and/or areolas, there are surgical procedures to address whatever bothers you and give you the breast appearance you desire.
Choosing a qualified, compassionate plastic surgeon to perform your procedure is important to get the results you want and enjoy a positive experience. The surgical team at The Plastic Surgery Group at City Centre is highly sought after for our expertise in breast procedures as well as our commitment to excellent patient care. Working closely with you, we will develop a surgical plan to help you achieve your goals and attain the attractive breasts you desire.
Our Fraser Valley service areas include Surrey, Langley, Abbotsford, Chilliwack, Coquitlam, Port Moody, Port Coquitlam, Pitt Meadows and Mission, BC.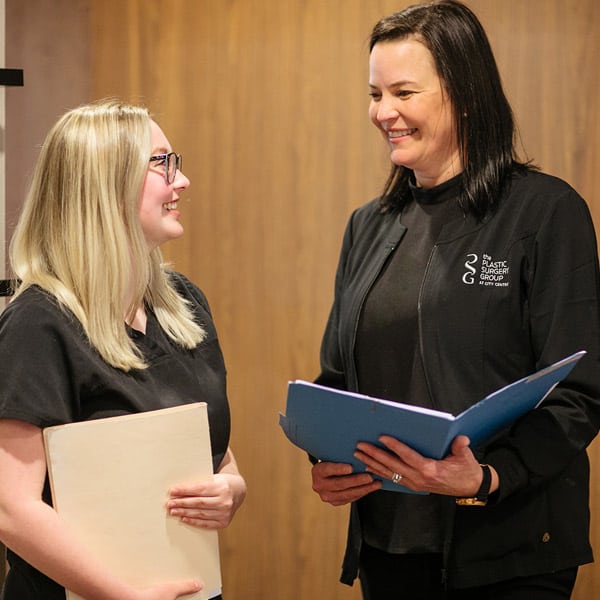 Nipple Reduction
Enlarged or prominent nipples are a common breast-related cosmetic concern among women, particularly women who have nursed. The nipples may be noticeable in certain dresses or tops and/or rub or chafe uncomfortably against bras or bathing suit tops.
Nipple reduction is designed to reduce unusually large or prominent nipples, or nipples that are out of proportion with the rest of the breasts. The procedure not only improves the appearance of large nipples but also improves or resolves chafing or irritation due to the nipples rubbing against clothing.
Our surgeons can reduce the length and/or width of the nipples, or the size of enlarged or puffy areolas. Our goal is to improve the balance between the size of the nipples/areolas and the size of the breasts.
Nipple Lift
Nipple lift is an option for nipples that sit low on the breasts and/or point downward. The procedure can be performed on one breast if the nipples sit at different heights, or on both breasts if needed.
Nipple lift is usually incorporated into both breast lift and breast reduction surgery, which are performed to correct saggy breasts and oversized breasts, respectively.
Cosmetic NAC Surgery SurreyInverted Nipple Correction
Inverted nipples do not protrude outward; instead, they retract below the surface of the skin. This occurs due to scarring around the milk ducts or shortening of the ducts. Depending on the severity of the inversion, the nipples may occasionally become erect and protrude normally upon stimulation, or they may not become erect and protrude at all.
Surgically correcting inverted nipples involves releasing the underlying tissues; it may also require dividing the milk ducts.
Rarely, a breast lesion like cancer can pull on the ducts and invert the nipple. If you develop a new inverted nipple, you should see your family doctor to get checked out.
Supernumerary Nipples
Men and women can develop supernumerary or "extra" nipples on the chest or abdomen. Supernumerary nipples may cause feelings of embarrassment or shame. Our surgical team can excise supernumerary nipples during a surgical procedure.
Irregular and Asymmetrical Areola Correction
Just as a woman's breasts can be asymmetrical in shape or size, so can her areolas. In cases where there are differences in the diameter or shape of the areolas, surgical correction can improve the symmetry between them. Depending on the specific situation, skin adjacent to or within the areolas is removed to achieve a better cosmetic result.
If you are interested in improving the size, shape or position of your nipples or areolas, The Plastic Surgery Group at City Centre can help. Schedule a consultation with our team to learn more by contacting our Surrey office today!
Schedule Your Consultation Today