Skip to Content
Breast Cancer Reconstruction
Breast Cancer Reconstruction in Surrey, BC
Breast reconstruction plastic surgery can restore your breast to its natural shape, appearance, and size after a mastectomy.
There are two types of surgery which can be used to reconstruct the breast(s) – Autologous Breast Reconstruction and Breast Implant Reconstruction.
Our Fraser Valley service areas include Surrey, Langley, Abbotsford, Chilliwack, Coquitlam, Port Moody, Port Coquitlam, Pitt Meadows and Mission, BC.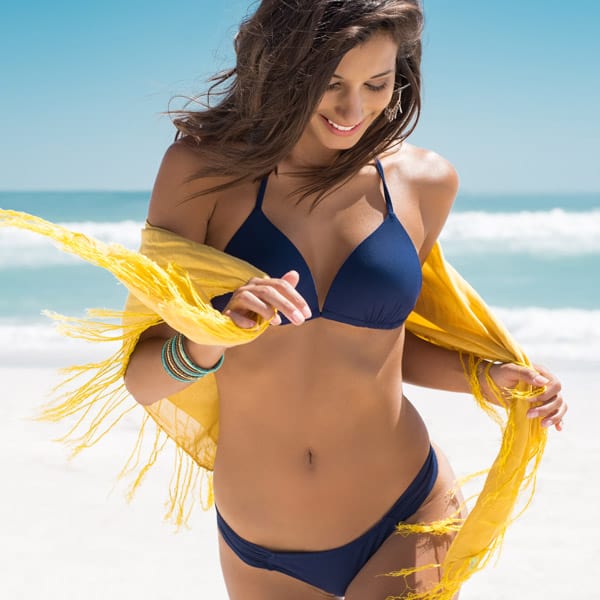 What Is Autologous Breast Reconstruction?
Autologous breast reconstruction involves a plastic surgeon using your own tissues to make a new breast. Skin, fat and possibly muscle (called a flap) may be taken from your tummy DIEP, TRAM, or back Latissimus Dorsi Flap, and transplanted to your chest.
The surgery involves moving tissue from the tummy or back to the chest to recreate the breast shape. There are two procedures to choose from for autologous breast reconstruction:
Tissue may be still attached to its original blood vessels (called a pedicled flap, such as TRAM or Back Flap) and transplanted under your skin to your chest.
Or the tissue can be completely separated from its original blood vessels and transplanted to your chest using microsurgical techniques.
Which Autologous Procedure Is Right for You?
The choice for which type of reconstruction you and your plastic surgeon decide to use depends on many factors, including:
Your preference
Your anatomy and health
Breast shape
Cancer treatment
Surgeon preference and experience
Available donor sites
These procedures can be done at the time of mastectomy (immediate) or at a later date (delayed). If you are having single-sided reconstruction, you may also choose to have a reduction or breast lift on the other side to help improve final symmetry.
Radiation or chemotherapy can affect the timeline for this reconstructive option and can increase the complication rates in some cases. These will be discussed during your consultation with your plastic surgeon.
What Is Breast Implant Reconstruction?
Breast implant reconstruction plastic surgery can restore your breast to a natural shape and appearance after a mastectomy. Many women report that breast reconstruction gives them confidence and makes them feel more like their old selves. Breast implant (alloplastic or non-autologous) reconstruction involves placing an implant beneath the skin and muscle layers of the chest in order to create a new breast.
Implant reconstruction may either be done in two stages (tissue expander then implant at a later date) or one stage (direct to implant).The decision is often dependent on factors such as:
Size
Shape of the native breast
Patient factors
The nature of cancer (size, location, stage)
Need for adjuvant treatments like radiation and chemotherapy
Desired post-operative size
Contact Us
To learn more about how you may benefit from breast cancer reconstruction or to schedule a consultation with one of our board-certified plastic surgeons, please contact our Surrey office today.
Schedule Your Consultation Today