Skip to Content
About the Plastic Surgery Group
About Our Clinic
Welcome to the Plastic Surgery Group at City Centre. As one of British Columbia's largest and most comprehensive plastic surgery clinics, we treat patients from Vancouver, Surrey, the Fraser Valley, and throughout BC.
Our beautiful new clinic, located across from the Surrey Memorial Hospital, is a tranquil and welcoming space where we focus on providing you with the highest level of compassionate care and outstanding results.
Our group of highly qualified, board-certified plastic surgeons are distinguished leaders in the field of plastic surgery with international training and extensive experience in all aspects of cosmetic and reconstructive surgery, including breast reconstruction, breast augmentation, body contouring, facial rejuvenation, and microsurgery. As a cooperative group of five surgeons, we are able to minimize your wait time and provide for all your plastic surgery needs in a seamless and coordinated way.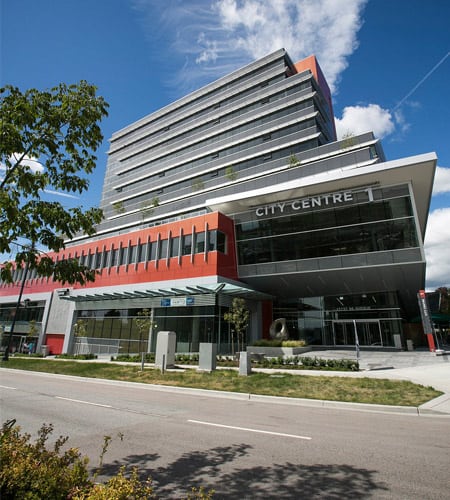 Breast Cancer Reconstruction
For women with breast cancer, our surgeons are the primary surgeons for The Breast Health Clinic — a state-of-the-art program that integrates and streamlines the diagnosis, treatment, and reconstruction surgery for women with breast cancer.
Offering a wide range of breast reconstructive options, we work closely with you and your medical team to provide you with a cohesive, coordinated treatment plan. Our goal is to be able to offer immediate reconstruction for every woman who wants one, while also meeting the tight timeline of urgent cancer surgery.
Schedule Your Consultation Today