Skip to Content
We Are Dedicated to Giving Back
As surgeons, we feel incredibly privileged to have received our surgical training in Canada — which is amongst the best in the world. We are dedicated to giving back to both our home and our global community. Volunteering in developing countries with the charitable health organizations Health for Humanity, Operation Smile, and Operation Rainbow has given us the opportunity to use our skills as surgeons to help both little children and adults who suffer from easily correctable conditions but who would not otherwise get treated because they don't have access to the necessary healthcare.
It is incredibly gratifying to know that we have given a child a chance at a normal and productive life just by repairing what in Canada would be only a minor deformity.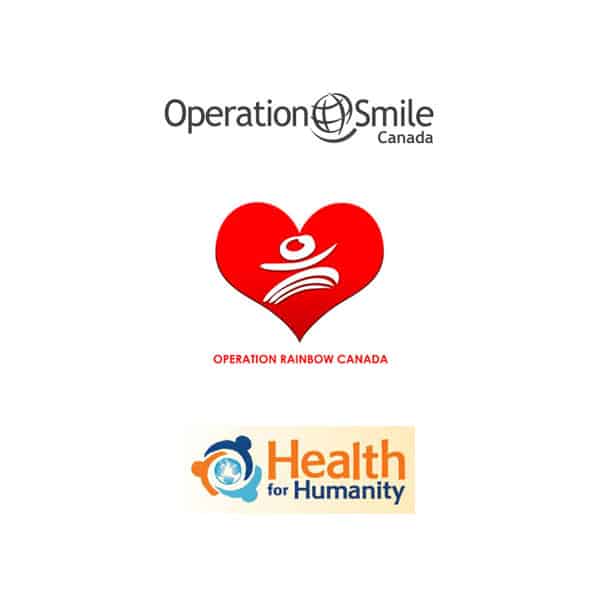 Operation Smile
Operation Smile is an international children's medical charity that performs safe, effective cleft lip and cleft palate surgery, and delivers postoperative and ongoing medical therapies to children in low and middle-income countries.
At Operation Smile, we're more than just a charity. We're a mobilized force of international medical professionals and caring hearts. Operation Smile is a pioneer in advocating for the importance of safe surgery in resource-poor environments and is the largest surgical charity of its kind, leading research into the causes of cleft lip and cleft palate, and its prevention, treatment, and eradication.
Health for Humanity
Health for Humanity Service Society (H4H) is a volunteer-based not-for-profit organization with the mission of improving health in underdeveloped communities. H4H provides surgical and primary care services, supports public health initiatives, and facilitates health education, knowledge sharing, and research.
Operation Rainbow
Operation Rainbow Canada is a private, all-volunteer, non-profit medical services organization which functions without paid staff and provides free reconstructive surgery and related health care for cleft lip and cleft palate deformities to needy children and young adults in developing countries.
Schedule Your Consultation Today