Skip to Content
Platelet Rich Plasma Therapy
Platelet Rich Plasma (PRP) Treatment in Surrey, B.C.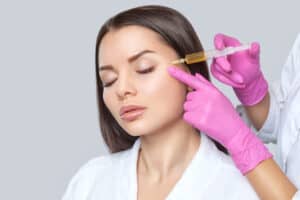 PRP (platelet rich plasma) therapy is quickly becoming a popular cosmetic treatment. Although doctors originally used it to aid patients recovering from sports injuries, scientists and aestheticians soon found that the regenerative properties of platelets also made them useful for patients looking to rejuvenate their appearance.
You may be more familiar with PRP therapy by its nickname: "vampire facial." This is a safe and natural way to use components of your own blood to stimulate your body's production of collagen.
Cosmetic Benefits of PRP
You may notice several benefits from the increased production of collagen, such as:
Tighter skin and improved texture with more youthful volume
Reduction of fine lines and wrinkles
More even tone as a result of addressing hyperpigmentation
Reduced acne scars
Regrowth of dormant hair follicles for fuller hair
Reduced appearance of bags or dark circles under your eyes
How PRP Works
While your blood is mostly comprised of plasma, a liquid-like material, it also contains red blood cells, white blood cells, and platelets. The platelets have an important role: they allow your blood to clot, which enables your body's natural repair system. When these platelets are separated from the blood cells and reinjected back into your body, it generates new collagen and elastin, which work to smooth and tighten your skin for a more youthful appearance.
PRP Procedure Details
Our experts begin by drawing blood from your body and running the blood through a centrifuge. This process pulls out the blood cells to create plasma with a high concentration of platelets and cell actives.
Typically, our team at the Plastic Surgery Group performs PRP therapy in conjunction with the V2 Beauty Booster. We see great results using this unique device, which uses a series of miniature needles that inject the PRP back into the skin on your face, neck, and lower eyelids to stimulate new collagen production and revitalize dormant hair follicles in the scalp.  The Beauty Booster helps to improve comfort with its precise depth of injection and deposit of PRP to maximize the rejuvenating benefits.
PRP Recovery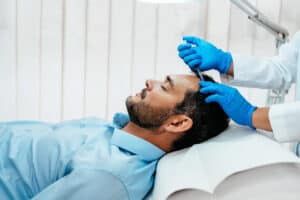 PRP is a minimally invasive treatment that requires little downtime. Although your skin may temporarily appear red and irritated from the microneedling, you should feel well enough to resume your normal activities, including work, within 24 hours.
Our experts recommend that you avoid Advil 10 days prior and do not consume caffeine or alcohol or smoke cigarettes for a couple of days before and after your treatment as these can make your bruising worse.
PRP Results
You may start to see visible results after a couple of weeks. Because PRP stimulates collagen production for added cosmetic benefits, you should see the tone and texture of your skin improve gradually in the months to follow. Patients who choose a vampire facial can see results that last up to one year. You may decide to repeat PRP annually to maintain your results long term.
PRP Costs
All PRP treatments are customized to the needs of our patients. Your total cost depends on the surface area of the skin or scalp being treated and whether other cosmetic treatments are combined with your PRP therapy. During a consultation, you will receive a quote so that you may make an informed decision.
Choose Our Medical Staff for Your PRP Needs
The professionals at the Plastic Surgery Group have years of experience achieving fantastic results on behalf of their patients. If you want to rejuvenate your skin safely and effectively, come speak to our team about PRP. Schedule a consultation today!