Skip to Content
Breast Augmentation in Surrey, B.C.
Our experienced medical team at the Plastic Surgery Group at City Centre in Surrey, B.C. performs breast augmentation procedures for women wanting to enhance the size and shape of their breasts. Our professional plastic surgeons understand the many emotions most women feel when deciding to have breast augmentation surgery. We'll take the time to explain every step of the process and help you choose the type of implants and surgery that works best for your lifestyle. We strive for natural results that make you feel confident about your appearance. As one of British Columbia's largest and most comprehensive plastic surgery clinics, we promise you're in trusted hands. Schedule your consultation today.
Our Vancouver & Fraser Valley service areas include Surrey, Langley, Abbotsford, Chilliwack, Coquitlam, Port Moody, Port Coquitlam, Pitt Meadows and Mission, BC.
Breast Augmentation Benefits
The Plastic Surgery Group at City Centre team understands the reasons women choose breast augmentation are personal. Many women share the same goals for surgery, including:
Increase breast size
Improve breast contours
Restore lost breast volume after weight loss, pregnancy, or breastfeeding
Correct breast asymmetry
Correct problems with current breast implants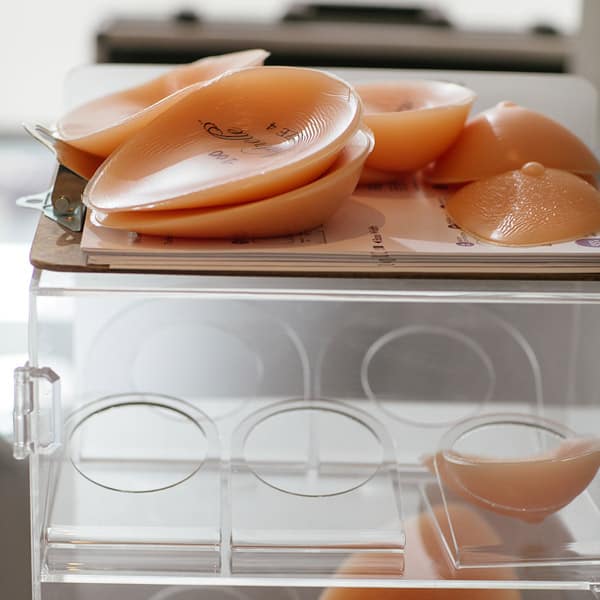 What To Expect on Your First Visit?
During your consultation, our medical team will examine you and discuss your breast implant options. These decisions will include the implant size and positioning, implant type, incision location, and specific requirements for your needs. We understand every woman has different needs, so we welcome your thoughts during this initial consultation. It's critical that you share your thoughts about the decisions that best fit your lifestyle and body.
Choosing Saline or Silicone Breast Implant Types
Saline and silicone breast implants are both safe and FDA-approved for breast augmentation surgery. They can both either be around or tear-drop shape with a textured or smooth surface. We can help you make the best choice for your body.
Saline implants include these properties:
Volume can be slightly adjusted in the operating room
Leakages or implant ruptures are easily noticeable to the naked eye
Less expensive
Firmer consistency
More noticeable to the touch
Increased risk of rippling (visible wrinkling)
Require enough natural breast tissue to cover or hide the implant
Heavier than silicone
Silicone Implants include these properties:
Tend to be softer and have a more natural feel and look
Need less breast tissue to hide them
More expensive
Leakage or ruptures have historically been more difficult to detect. However, new advances in Cohesive Gel implants have reduced leakage rates and related complications to close to zero.
How Does Breast Augmentation Work?
Breast augmentation surgery has changed drastically over the past decades with technological advances and progressive education. The surgery itself should never be viewed as an isolated procedure but as a process.
We begin with educating our patients about the different breast implant options and expectations of surgery. We'll guide you through tissue-based planning by helping you choose the best implant that fits your desires.
During this consultation, we'll examine your breast measurements. Our surgeons will help you decide the location of your implant, implant size, implant type, inframammary fold position, and location of your incision.
Your breast augmentation surgery technique is customized to meet your personal needs. We place you under general anesthesia, putting your privacy and safety as our priority.
After surgery, we'll explain the post-operative care procedures. The surgery usually only takes about two hours, and you'll be in recovery an hour afterward.
Options for Breast Enhancement
We offer multiple options for breast enhancement. Some of the most common procedures include:
Breast Reduction – Reduces breast tissue for smaller breasts
Breast Lift – Lifts and reshapes breasts
Breast Augmentation – Enhances the size and shape of breasts
Fat Grafting and Transfer – Lifts sagging breasts and improves the shape
Lateral Chest and Axillary Liposuction – Removes excess breast tissue
Upper Body Lift – Removes loose, sagging skin
Nipple and Areola Correction – Enhances the look of nipples and areolas 

Breast Augmentation Risks
There are risks to every type of surgery. Breast augmentation risks include infection, scarring, delayed wound healing, bleeding, and anesthetic reaction. Risks specific to this procedure include, but are not limited to, asymmetry, numb skin/nipples, implant-related complications, and capsular contracture (scar tissue around the implant). Complications in this procedure are relatively uncommon.
Choosing Breast Implant Location
Breast implants can be placed underneath or above the muscle.
Placing the implant underneath the muscles has many advantages, including:
A less palpable implant
Possible slight decreased chance of capsular contraction (hard scar tissue around the implant)
Reduced implant visibility (the wrinkling effect of the skin that can sometimes occur around the implant)
Placing the implant above the muscles has many advantages including:
Easier placement
Less interference with mammography
Potentially less post-surgery discomfort
Can provide a subtle lift to the breast with the added volume of the implant
Choosing Breast Surgery Incision Location
We'll help determine the best incision location for your needs. The most common area is along the crease of the breast. This location is easy for the surgeon to place, has a decreased chance of bacterial infection, allows for a larger implant, and allows an easy re-entry point for future revision surgery if necessary. The only disadvantage is the incision may be more visible in some cases. Below the nipple is the following most common surgery incision location. This area provides easy placement and a well-hidden scar. Disadvantages include the incision may temporarily alter nipple sensation, and a different incision may need to be made if you have revision surgery.
The Procedure
Your breast augmentation is a day of surgery performed under general anesthesia. The surgery should take about two hours, and you'll be in recovery for another hour afterward. We'll discuss your breast augmentation options before the procedure to ensure your peace of mind. You're in excellent hands with our experienced, knowledgeable surgeons.
Recovery
The recovery time for breast augmentation is usually a couple of weeks. You'll be able to get back to regular activities in a few weeks. Post-operative care and recovery time are unique to each individual's needs. We'll discuss your recovery in detail during your consultation.
Contact The Plastic Surgery Group at City Centre
We want you to look and feel you're the very best. At The Plastic Surgery Group At City Centre, we strive to offer a welcoming atmosphere for all patients. We provide solutions for comfort and confidence. Our surgeons are board-certified and ready to guide you through your breast enhancement process. Contact us today for a consultation!
Schedule Your Consultation Today