Skip to Content
Cosmetic Breast Balancing in Surrey, B.C.
Most women are born with subtle differences between their breasts but in some cases, this difference can be extreme and is often a result of a congenital underdeveloped breast on one side.
Our Vancouver & Fraser Valley service areas include Surrey, Langley, Abbotsford, Chilliwack, Coquitlam, Port Moody, Port Coquitlam, Pitt Meadows and Mission, BC.
What It Can Do for You
If you feel lopsided or have trouble fitting into your clothes due to a size mismatch of your breasts, then you may be a candidate for asymmetry breast correction procedures.
The team at The Plastic Surgery Group at City Centre is very well versed in cosmetic breast balancing, which is the surgical treatment of asymmetrical breasts. If you feel as though your breasts are noticeably uneven, or if you have trouble finding clothing due to size differences, we can help you enjoy more symmetrical breasts and greater confidence.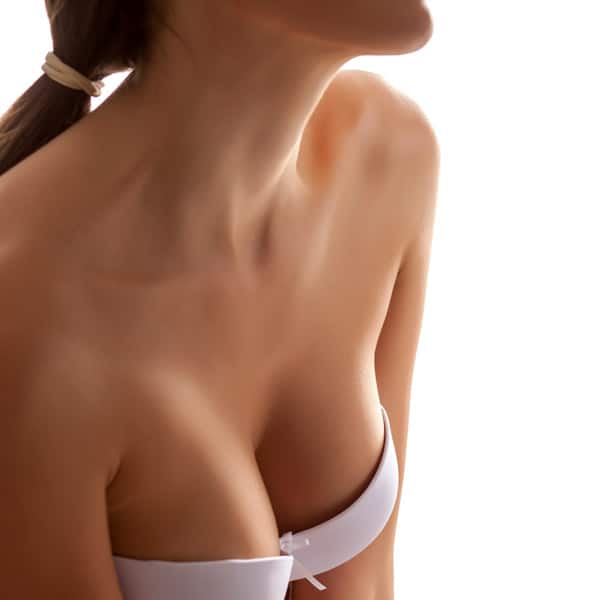 Good Candidates
Having asymmetrical breasts is very common. Most women have one breast that is slightly bigger, smaller or saggier than the other, and the imbalance can fluctuate throughout life (e.g., during puberty, pregnancy and nursing). In most cases, small differences in breast size and shape are nothing to worry about and nothing that needs surgical treatment.
However, for certain women, their breast asymmetry is particularly pronounced, and it can be a source of unhappiness and embarrassment. For example, some women have differences of a cup size or more between their breasts, or one breast that is significantly saggier than the other. In these cases, plastic surgery to balance out the breasts can be very gratifying.
Treatment Approaches
The first step toward achieving your goals is to sit down with one of our plastic surgeons to determine what bothers you about your breasts and what you want to achieve from surgery. Using photographs to illustrate what you want to look like is very helpful to our surgical team.
Our surgical team will outline all of your options and the pros and cons of each. They will answer your questions and help you decide how you want to proceed with your treatment. Keep in mind that often both breasts need surgery to balance them out and achieve an outstanding final result.
Depending on your natural breast anatomy and your goals of surgery, our team may recommend one of the following approaches:
Breast Augmentation
If you want to match the size and shape of your larger breast, or if you want overall larger breasts, we can place saline or silicone implants. We will use different sizes in each breast to remedy the imbalance and create beautiful, natural-looking results.
Breast Reduction
If you want to match the size and shape of the smaller breast, or if you want overall smaller breasts, we can perform breast reduction. During the surgery, we will remove tissue and fat from one or both breasts using liposuction and excision techniques.
Breast Lift
If one of your breasts sags excessively, you could benefit from mastopexy (a.k.a., breast lift). During the surgery, we will remove excess skin from the sagging breast and tighten the tissues. This lifts the saggier breast to complement the other breast, and gives it a more youthful contour. We can also reduce oversized or stretched-out areolas if needed.
Schedule a Consultation With Our Team
After determining the best approach to your surgery, our team will provide details about the operation and give you information about preparing for surgery and recovering from it.
If you would like to learn more about cosmetic breast balancing with our experienced plastic surgeons, please schedule a consultation at our Surrey office today.
Schedule Your Consultation Today