Skip to Content
What Tummy Tuck Can & Cannot Do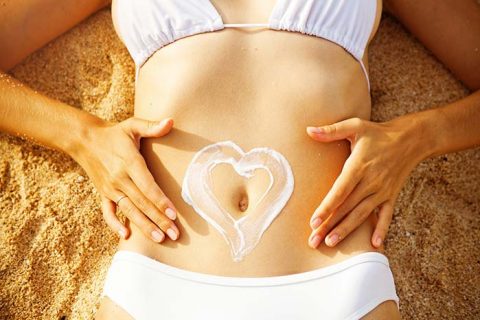 There are many myths and misconceptions surrounding tummy tuck (abdominoplasty), especially regarding what it can and cannot do. At Plastic Surgery Group at City Centre, our team is committed to educating our patients so they can make confident and informed decisions regarding their cosmetic care. If you are considering a tummy tuck, continue reading on to find out what you can expect from the procedure.
Tummy Tuck Can Remove Loose Excess Skin
Many individuals struggle with loose, flabby skin that hangs off the abdomen, especially after massive weight loss or pregnancy. A tummy tuck is designed to remove excess skin that cannot be treated with diet and exercise. During the procedure, the loose skin is removed and the remaining skin is tightened for a smoother appearance.
Tummy Tuck Cannot Make You Lose a Lot of Weight
This is one of the most common misconceptions regarding a tummy tuck and plastic surgery in general. A tummy tuck is not a weight loss surgery and patients should not expect to lose a lot of weight with the procedure. A body contouring procedure, a tummy tuck focuses on removing skin and fat that are resistant to weight loss efforts, either through diet and exercise or bariatric surgery. Ideal candidates for a tummy tuck are men and women who are at or near their ideal weight.
Tummy Tuck Can Remove Small Pockets of Fat
When paired with liposuction, a tummy tuck can eliminate small deposits of surplus fat on the abdomen. Liposuction can also be performed on the waist and lower back to create an hourglass figure. Following the removal of fat, the abdomen looks flatter and more toned.
Tummy Tuck Cannot Correct Stretch Marks
Many women develop stretch marks on the lower abdomen after pregnancy, while some men develop them after gaining weight. Unfortunately, a tummy tuck cannot correct the appearance of stretch marks. However, the procedure can remove stretch marks located on the skin that needs to be excised. This may improve the overall appearance of the remaining stretch marks.
Tummy Tuck Can Inspire a Healthier and More Active Lifestyle
The results of a tummy tuck can be a motivating factor to live healthier. Some patients report being motivated to maintain their slimmer and more attractive physique after a tummy tuck by eating healthily and exercising regularly. One study found that weight loss patients who underwent tummy tuck were more likely to keep the weight off than patients who didn't have a tummy tuck.
Are you ready to take the next step towards a leaner and flatter abdomen? Contact our Surrey office to schedule a personal consultation with one of our trusted plastic surgeons.
Schedule Your Consultation Today